What do I stream iOS App development with?
Let's talk about the gear and software I use to stream iOS app development.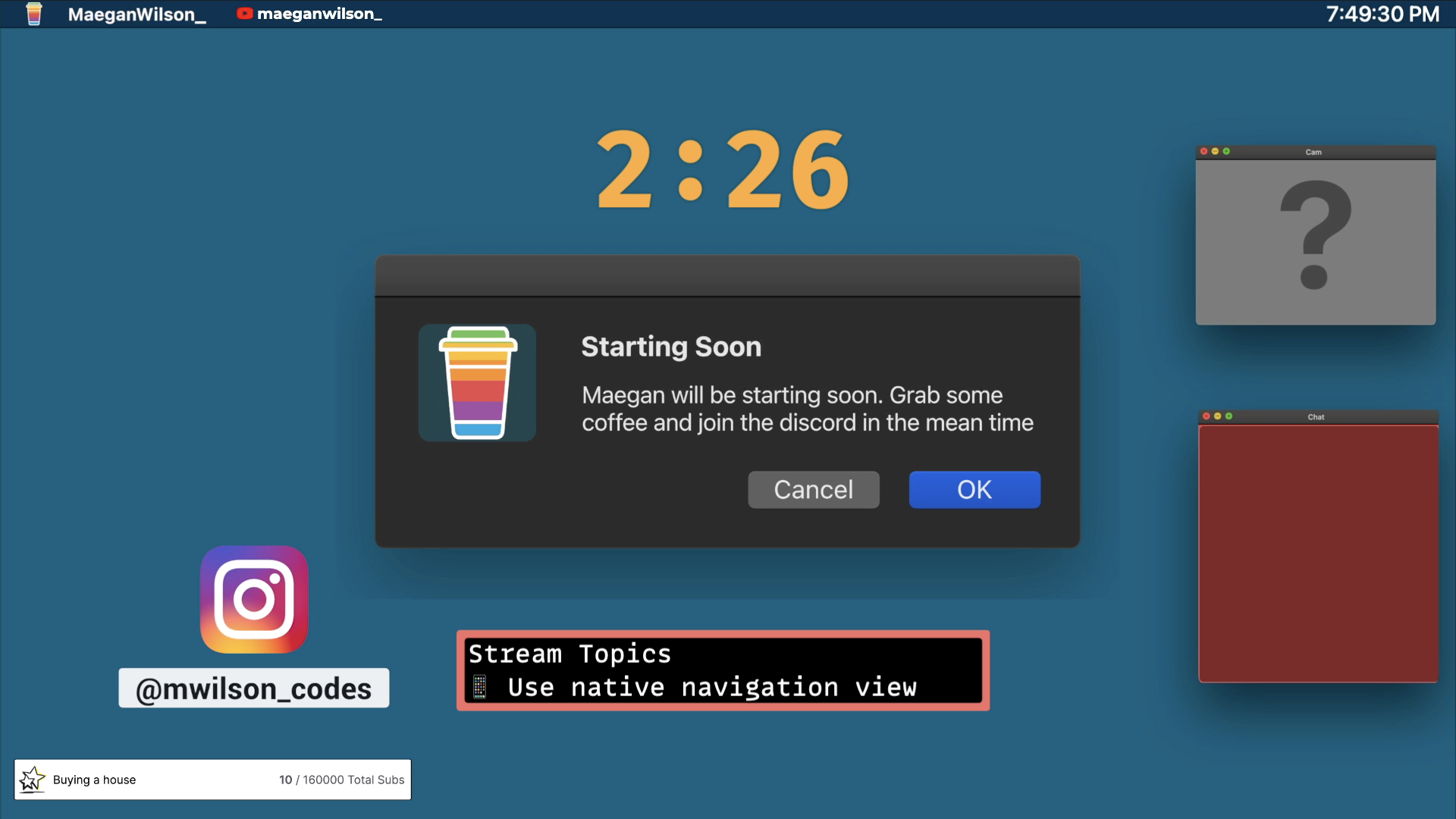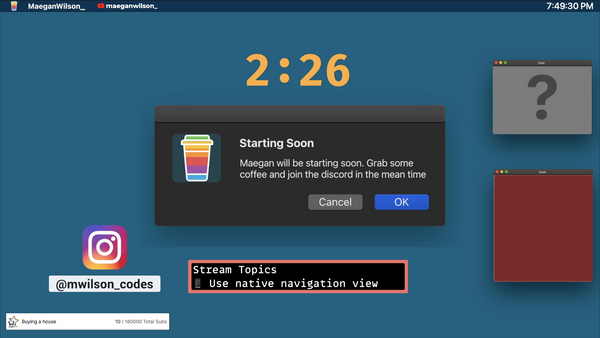 In my last post, I talked about why I stream iOS app development, so I'm going to discuss how I do it in this one. I have streamed for 3 to 4 years and have slowly built up my workflow as I found what works for me and what does not.
💰
Links in this article may be affeliate links. If you make a purchase from the links, it will only help keep the site going.
Software
Here's a breakdown of what software I use to run my stream.
Streaming software
My streams rely on 1 piece of software to send my video to Twitch, Ecamm Live. Ecamm Live is a live stream and video production studio made to work on macOS. It is M1 optimized and works great for what I do. Ecamm allows me to set up multiple profiles and scenes to switch between, making my stream run a lot smoother. It also records my screen which is what allows me to show my work.
Music & Sound Effects
What's a stream without some background music, right? For background music, I use Epidemic Sound. It's a subscription service for royalty-free music on Twitch, YouTube, and other social media networks. I have my Twitch and YouTube channels connected to the service, so my videos and streams don't get taken down. Not only do I get a lot of songs to use, but I also get a lot of sound effects that I can use throughout the stream also.
Graphics & Overlays
Since I stream app development, I went for a macOS style overlay for my stream. I got heavy inspiration from this Etsy listing. The only issue with it is that it was a windows theme, and since I do iOS app development, it made more sense for a macOS theme. I made most of the graphics myself using Affinity Designer.
For notifications and chatbox on screen, I created an overlay in Stream Elements, a browser source inside Ecamm. It connects to my Twitch account to read the chat and know when someone follows or subscribes so that it can show the alert or chat properly.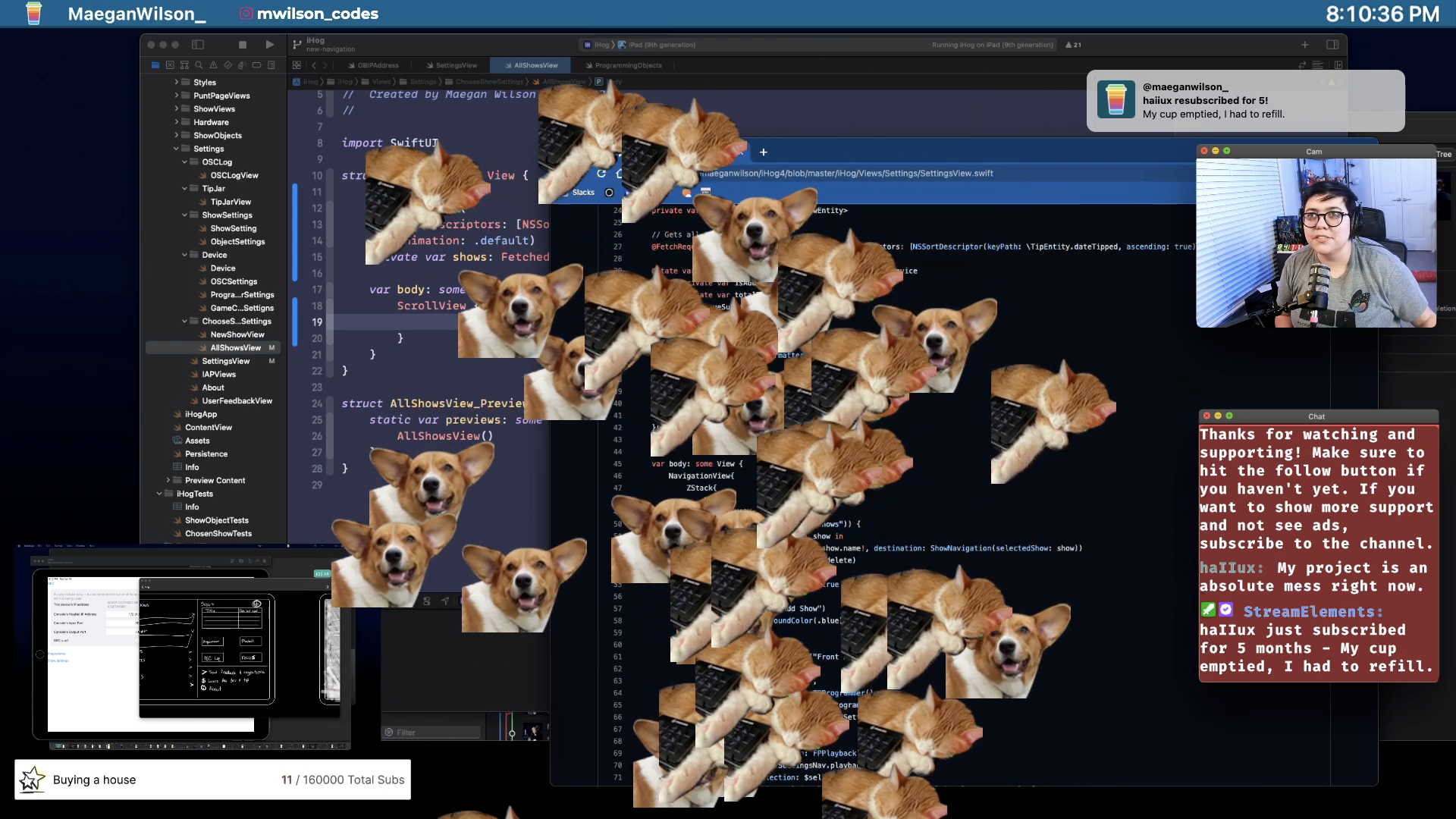 I also have some movies playing on the starting soon screen and be right back screen that I made in Final Cut Pro using some plugins.
Hardware
Here is a breakdown of the hardware I use while streaming.
Computer
Having a powerful enough computer is crucial. Some people solve this by having 2 computers, one for development and one for streaming, but I didn't want to deal with that and am just using an M1 Mac Mini with 16GB of RAM. I have a stream deck (1st generation) connected to it to help me switch scenes and better control the stream. I also use 2 monitors, one is a 34" ultrawide and the other is 24". It makes it easier to have 1 monitor dedicated to the output of the stream and the other for chat or various other things.
Audio
Having good audio is crucial to video content, and I would even say it's more important than having a face camera. I use a Rode Podmic as my primary mic. It's an XLR mic, so it also needs an interface. For that, I went way overboard and got the Rodecaster Pro. I enjoy using the Rodecaster Pro since it has sound pads, and I can easily loop my computer's audio back into the stream.
The Podmic is on an Elgato Wave Mic Arm Low Profile. I like how the mic looks coming from the bottom rather than the top, and that's my reasoning for using this boom arm.
Video
I chose to have a face while streaming, but some people don't, and it works for them. As my A camera, I use an Elgato Face Cam. I wanted something easy that plugged in and looked good. Sometimes I have a B camera that shows more of my space, a Sony A7iv. Again, it's way overkill, but I have it, so I should use it. I use an ATEM mini to get the A7iv's video into my computer.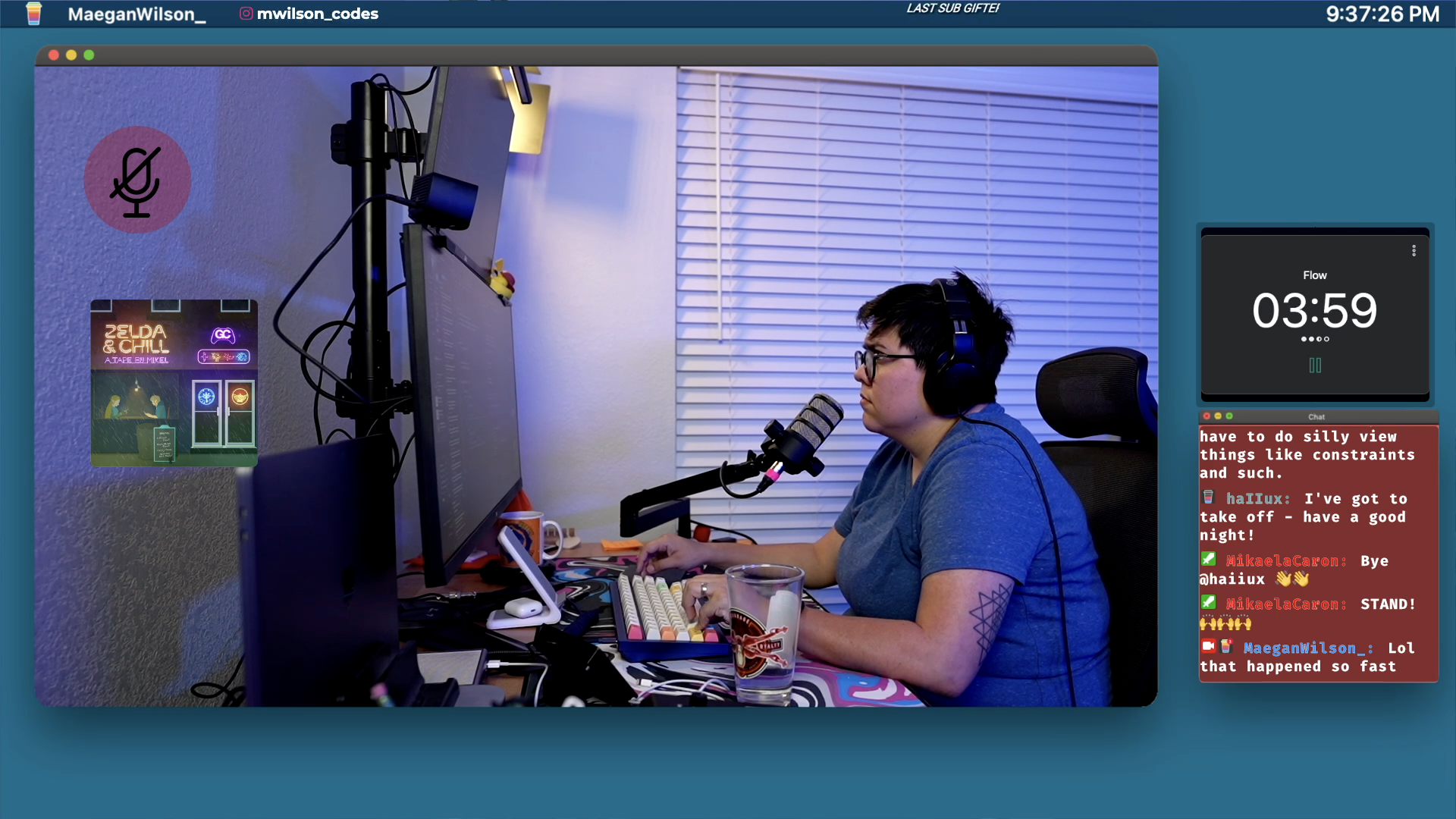 Lighting
The cameras are only as good as the lighting that goes into them, so I have three lights that I use anytime I stream or am on a video meeting. I use 2 Neewer RGBW panels for key and backlighting. I use a Godox SL60W as a fill light.
---
Thanks for reading! If you have any questions about setting up a stream, then please ask me know on twitter @maeganwilson_ or hop in to my Twitch chat and ask!